Mini Boston Cream Pie Recipe
Taking Boston cream pie into actual bite sized pies with Athens phyllo shells. They're dipped in chocolate, filled with vanilla custard and topped with more chocolate!
Hello my friends! I know it's been a while since I've published a blog post, please don't give up all hope on me. This cookbook has taken up so much of my time but I've already submitted my manuscript, I just have to shoot the second half of my photos and correct the edits to the manuscript.
I partnered with my friends over at Athens Foods to bring you guys an exciting new recipe! I know it's like fall already and you guys don't expect anything less than pumpkin pie spice everything but we're coming in strong with none other than cute mini boston cream pies!
Side note, if you love these mini boston cream pies, make sure to check out my mini lemon meringue pies, they're to die for!!
What is Boston Cream Pie?
Boston cream pie is actually a cake. It's made up of the two buttery sponge cake layers, filled with a vanilla custard and frosted with a silky chocolate ganache. It's called a pie because when this cake was developed, cakes and pies were baked in the same pan. The name pie and cake were interchangeable then and pie just stuck to this cake.
I took the glorious flavors of the Boston cream pie and made actual mini pies. To keep things simple and delicious, I used Athens phyllo shells as my crust. To fancy them up, I dipped the shells in a chocolate glaze before I filled them with vanilla custard.
What crust to use for Mini Boston Cream Pies?
When it comes to anything mini, I always reach for my box of Athens phyllo shells! They're so delicious, easy to prepare and pair well with any treat, sweet or savory. I store them in the freezer and when I'm ready to use them, I defrost them overnight in the refrigerator and then bake them in my toaster oven at 400F for 5 minutes. Let them cool slightly and fill them with whatever filling you desire!
How to make vanilla custard for Boston Cream Pies?
Everyone has their own way of making custard. There's literally a million and one vanilla custard recipes out there but I recommend this one. It's easy to make, packed with vanilla flavor and it's the perfect consistency to fill Athens phyllo shells with.
What you'll need:
Egg yolks
Granulated Sugar
Cornstarch
Milk
Butter
Vanilla
To make the custard, you want to melt the butter into the milk and then use that to temper the eggs so they don't coagulate. Once all of the ingredients, besides the vanilla, are mixed in the saucepan you're going to whisk it over medium heat until you see the first bubble appear. After the first bubble appears, whisk vigorously for one more minute and then remove the custard from the heat and pour it into a heat safe bowl.
I only add my vanilla bean paste or vanilla extract to the custard after it's removed from the heat because it produces a more intense vanilla flavor since it's not getting cooked out. If you were using actual vanilla beans, you may want to steep those in the milk before even cooking.
Storing mini Boston cream pies
I suggest making these as fresh as possible but the cream pies can be stored refrigerated in an airtight container for up to a week. They can be served cold, slightly chilled or at room temperature, depending on your preference.
I do not recommend freezing these mini pies because to be honest, defrosted custard does not sound very appealing, lol.
Thanks so much for stopping by, friends, I hope you enjoyed today's post. If you make these mini boston cream pies, using Athens phyllo shells, post them on Instagram and tag me @baranbakery and Athens @athens_foods so we can join in on the fun! Hope you guys have a blessed day and happy baking!
Love, B
Yield: 30
Mini Boston Cream Pie Recipe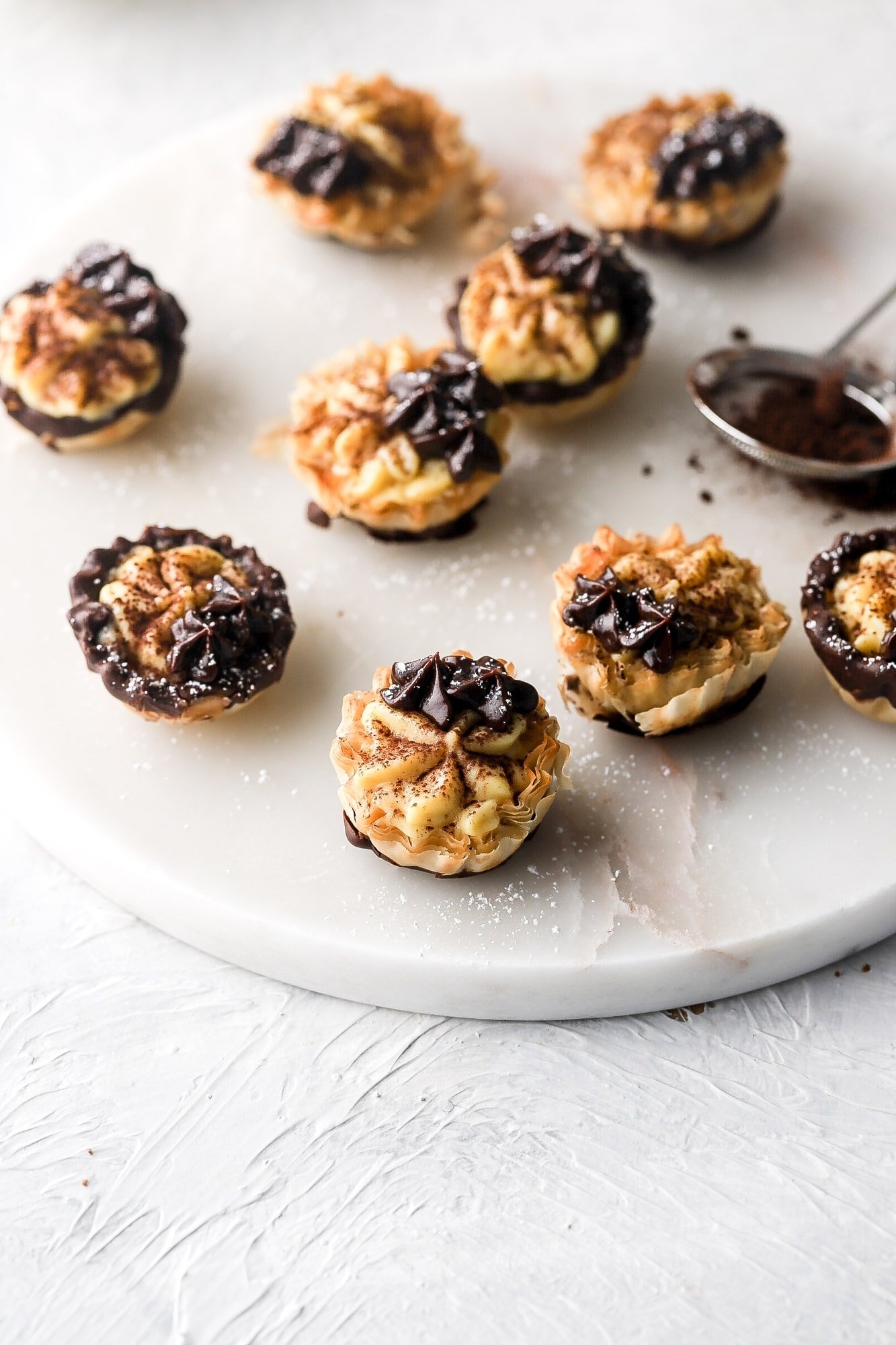 Taking Boston cream pie into actual bite sized pies with Athens phyllo shells. They're dipped in chocolate, filled with vanilla custard and topped with more chocolate!
Total Time
1 hour
30 minutes
Ingredients
Chocolate Covered Phyllo Shells
30 Athens Phyllo Shells
1/2 cup (3oz) dark chocolate chips
1 tsp coconut oil
Vanilla Custard
3 large egg yolks, room temperature
1/4 cup (50g) granulated sugar
2 Tbsp (20g) cornstarch
tiny pinch of fine sea salt
1 cup (237mL) milk
1/2 tsp vanilla bean paste (or high quality vanilla extract)
3 Tbsp (42g) unsalted butter, softened
Chocolate Ganache
1/2 cup (3oz) dark chocolate chips
3 Tbsp heavy whipping cream
Dutch-process cocoa powder and/or powdered sugar for dusting.
Instructions
Custard
In a medium bowl, combine the egg yolks, sugar, salt and cornstarch. Whisk them together until the mixture is smooth; set aside.
In a medium saucepan, over low-medium heat, bring the milk to a simmer - just until you see steam coming out but not boiling - and then slowly stream the milk over the egg mixture, while whisking continuously.
Return the whole mixture to the pot and over low-medium heat, whisk continuously for a couple of minutes. After about 2ish minutes, you should feel the pastry cream thickening, at this point whisk aggressively and when it's starting to stick to the pan, remove it from the heat (still whisking aggressively) and pour it into a bowl.
Add the butter and the vanilla bean paste, it may separate at first but then as you whisk the pastry cream with the butter and it will come together nice and smooth.
Cover the surface with plastic wrap and allow it to cool to room temperature.
Phyllo Shells
Bake the Athens Phyllo Shells at 400F (204C) for 5 minutes. While they're cooling, place the chocolate and coconut oil in a small bowl and microwave them for 15 seconds, 2-3 times, mixing in between, until the chocolate is smooth.
Dip the shells, tops or bottoms, into the chocolate. Place them with the chocolate upright until they set.
For the chocolate ganache, use another small bowl to melt the chocolate with the cream in the microwave for 15 seconds, 2-3 times, mixing in between until it's smooth. Cover the chocolate and let it set until it's pipe-able.
When the custard has cooled, use a piping bag, fitted with your favorite tip, (or a spoon) to fill the shells. Pipe some chocolate ganache on top and dust with cocoa powder and/or powdered sugar.
Mini boston cream pies are best served slightly chilled.
Notes
Store refrigerated in an airtight container.
Nutrition Information:
Yield:
30
Serving Size:
1
Amount Per Serving:
Calories:

137
Total Fat:

10g
Saturated Fat:

6g
Trans Fat:

0g
Unsaturated Fat:

3g
Cholesterol:

44mg
Sodium:

106mg
Carbohydrates:

11g
Fiber:

0g
Sugar:

6g
Protein:

2g
Nutrition information isn't always accurate.
This post is sponsored by Athens Foods, all opinions are 100% my own. Thank you for supporting the brands that make Baran Bakery possible!