Galaxy cakes are so beautiful but who wants to spend time making that galaxy mirror glaze and have it not turn out!? No one so I made a buttercream galaxy cake using American buttercream!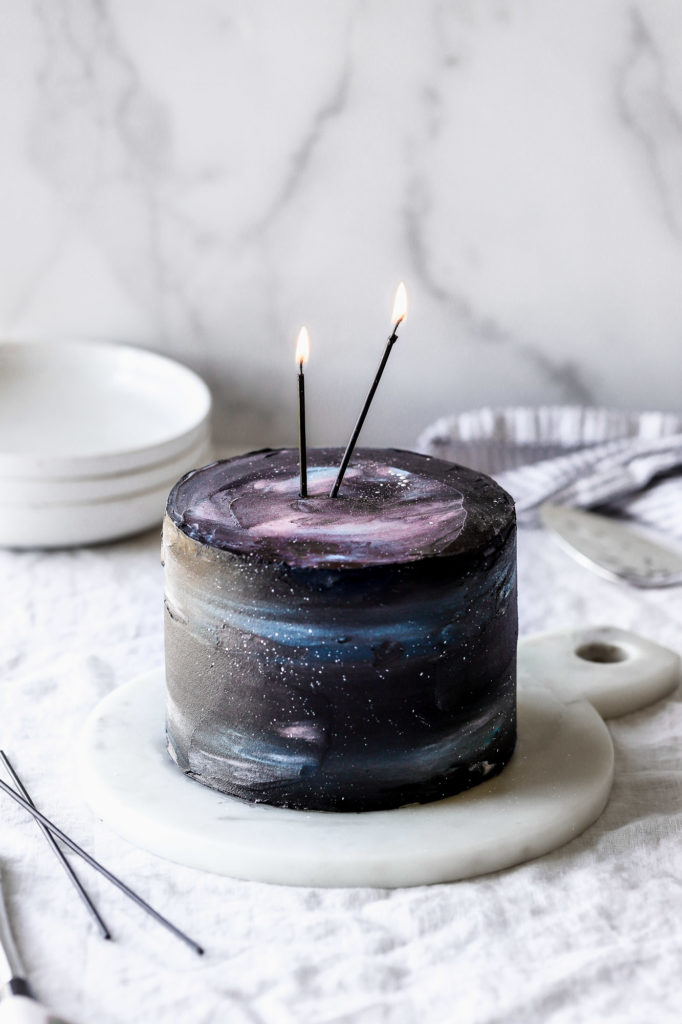 Most galaxy cakes are made with a mirror glaze. Galaxy mirror glazes are made from condensed milk, white chocolate, water and gelatin to produce a shiny liquid topping that you pour over the cake. The black, navy blue, pink, purple, etc. create a marbling over the cake resembling a galaxy.
What cake to use for galaxy cake?
Any cake, even cake mixes are fine. I used my favorite vanilla cake recipe and it's the base for a lot of my other cakes but you can certainly use any other 8 or 9 inch vanilla cake recipe. My only suggestion would be to keep it a butter/oil cake and not a sponge cake.
How To Make American buttercream?
American buttercream is incredibly easy to make. Essentially, the butter gets beaten with powdered sugar for 5-10 minutes. This ensures that the sugar is fully dissolved and the texture becomes fluffy instead of gritty. Add in the vanilla and cream, beating for another couple minutes.
How to Make Black Buttercream Frosting
Black icing can be tricky to make but with a few secret ingredients, it's possible. Obviously we'll need black food coloring, just make sure to use GEL food coloring, it's much more potent and will prevent the frosting from splitting.
To avoid using so much food coloring in the buttercream I also used black cocoa powder to make a chocolate buttercream. This will also work with regular cocoa powder but you may need to balance the reddish hue with a drop of dark blue food coloring.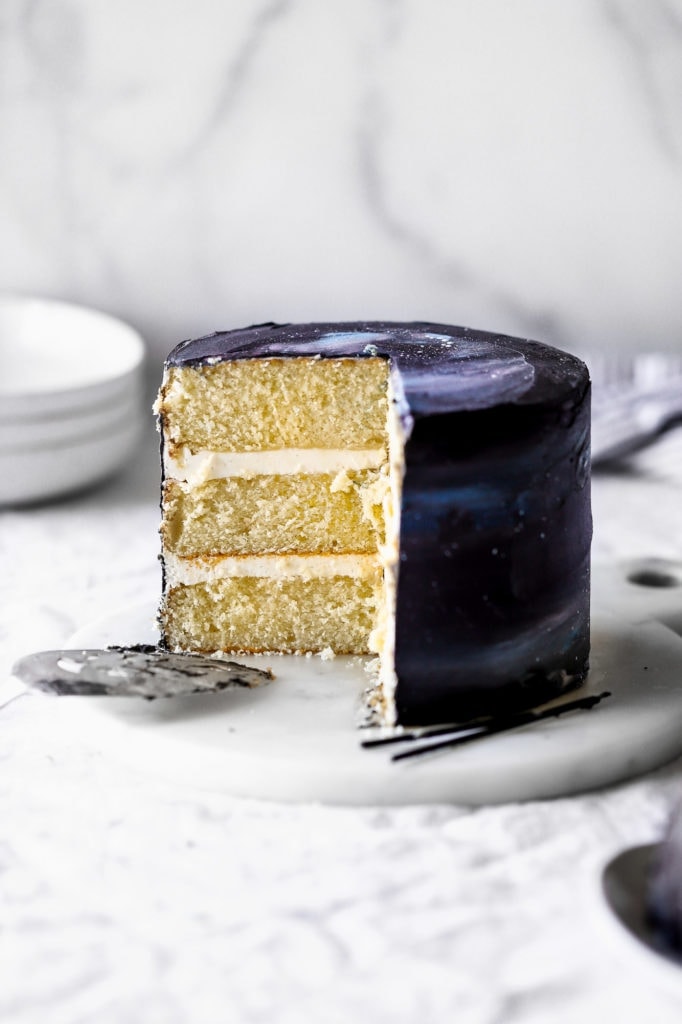 How to make a galaxy cake with American buttercream?
Galaxy cakes are easier than they look. I say that often but whenever something intimidates me, it turns out to be much simpler than expected. I've been wanting to make a galaxy cake but I was intimidated by mirror glaze so I just tried this out and it totally works. You don't even need a piping bag!
Butter: using room temperature butter allows you to incorporate more air for a fluffy buttercream and it will give you the right consistency for spreading frosting.
Powdered Sugar: I find that it's not necessary to sift powdered sugar if you beat it for 5-10 minutes, scraping the edges every couple minutes.
Vanilla Extract: You can also use maple or almond extract if you prefer but I add vanilla to EVERYTHING.
Cream: This makes the buttercream creamier and more spreadable.
Black cocoa powder: You don't NEED this but it's easier to make black buttercream using both cocoa powder and food coloring. Regular dark cocoa powder will work as well but I got good results with this black cocoa powder from amazon.
Gel Food Coloring: THIS WON'T WORK WITH LIQUID FOOD COLORING! Gel food coloring is much more potent. With liquid food coloring, the amount you would need would probably split the frosting and the colors would be a little off. I have this Americolor Gel Food Coloring set, also from amazon.
Offset Spatula and/or multi-purpose scraper: You don't need both but they are both useful. Any of these would be fine, I prefer metal over plastic though. PRO TIP: when you use a metal spatula or scraper, heat it up under hot water before using it and it will spread the frosting so much nicer.
Small paint brush: to create the white 'stars' in the galaxy, use a short, wide brush, similar to these in size.
If the directions aren't clear, make sure to watch the video (I've updated the recipe since but the method is the same). Hope you guys enjoyed this post & if any of you make this I HAVE TO SEE IT! Tag me @baranbakery on instagram. Leave a comment if you have any questions or requests for future videos/recipes, etc. As always, have a blessed day and happy baking!
Love, B
Yield: One 6" Cake
Galaxy Cake
The BEST vanilla cake frosted with vanilla American buttercream, made to look like a galaxy.
Additional Time
30 minutes
Total Time
2 hours
5 minutes
Ingredients
White Cake
2 1/4 cups flour
1 Tbsp baking powder
1/2 tsp salt
1/4 cup unsalted butter, rT
1/2 cup canola oil
1 1/2 cup granulated sugar
1 tbsp vanilla extract
3 large eggs
3/4 cup sour cream
3/4 cup whole milk
Vanilla Frosting
1 cup unsalted butter, room temperature
1 lb. powdered sugar
1 Tbsp vanilla extract
2 Tbsp heavy whipping cream
Galaxy Decoration
1 cup unsalted butter, room temperature
1 lb. powdered sugar
1 Tbsp vanilla extract
1-2 Tbsp heavy whipping cream
2-3 Tbsp black cocoa powder
Pink, blue, black & white GEL food coloring
Small paint brush
Instructions
Vanilla Cake
Preheat oven to 350F & grease three 6" cake pans.
Whisk together flour, baking powder & salt in medium bowl and set aside.
On medium speed, beat together butter, oil & sugar. Once combined, add the eggs, one at a time, mixing until each egg is fully combined.
Add in the vanilla extract and sour cream, beat until the mixture is smooth, making sure to scrape the edge of the bowl.
Alternate adding in milk & dry ingredients while beating on low-medium speed. Beat until just combined. Make sure to scrape down the sides of the bowl as needed.
Fill pan about half way & bake for about 35 minutes.
Vanilla Buttercream
With paddle attachment, on medium-high speed, beat butter for frosting until it is pale & fluffy.
Lower speed to low & slowly add in icing sugar, beat until fully combined.
Add in vanilla extract and cream, beating until fully combined.
Once the cakes have fully cooled, place the first layer on a large plate or cake stand. Use an offset spatula to frost each layer, followed by a thin crumb coat.
Galaxy Decoration
Repeat the steps for vanilla buttercream and then separate into thirds.
Leave 1/3 white & set aside for emergency purposes (in case you color something too dark).
Use 1/3 to color pink & blue.
The last 1/3 we'll use to make black. Mix in black cocoa powder to the buttercream and then add black gel food coloring, until the color is nice and dark (it may not be PERFECTLY black).
Place dabs of different color buttercream on the top and sides of the cake and use a cake spreader or an offset spatula to distribute the colors.
If you add too much black, just add more of the lighter colors on top and vise versa. Just keep spreading it around the edge of the cake until you like how it looks. Remember that the more you spread it, the more the colors will blend together.
When your frosting is complete, take a small paint brush, dip it into your white gel food coloring & use your finger to spray it onto your cake.
Notes
Store at room temperature, covering any open slices with plastic wrap.
Nutrition Information:
Yield:
10
Serving Size:
1
Amount Per Serving:
Calories:

1157
Total Fat:

60g
Saturated Fat:

31g
Trans Fat:

0g
Unsaturated Fat:

26g
Cholesterol:

184mg
Sodium:

307mg
Carbohydrates:

149g
Fiber:

1g
Sugar:

121g
Protein:

7g
For similar recipes, check out: