Hiiiiiiiiii.
Happy Monday everyone !
So yeah, this cake is a superstar.
My momma is a baker & this is, by far, her most popular cake.
For those of you that don't know, dobos is a Hungarian sponge cake with very thin layers. It was created by a man named Dobos in a time when cooling techniques were limited. So basically, because these layers are so thin, by the time you remove the second piece from the oven, the first one has already cooled. You can begin putting this cake together while some of your layers are still in the oven. That's crazy.
Originally it was topped with a hardened caramelized sugar (like the texture of the top of creme brulee) but most people top it with chocolate now. I love the caramel topping on the original dobos but I haven't tried it on this one. The original has white layers with chocolate buttercream but I prefer chocolate layers with vanilla buttercream. &&&& it also looks so much prettier like this, doesn't it?! I love the contrast between dark and light. The white cake with chocolate buttercream blends together more so you can hardly even see each layer.
Honestly, I'm not even really sure why every Romanian is obsessed with dobos BUT I decided to make it anyway & I made it my way, lol. I mean don't get me wrong, it tastes amazing both ways but growing up I think everyone just wanted this so we're kinda at a point where we're over it.
This cake got twice as much engagement on my social media pages so I know someone will make this. If you do, please take a photo & tag #bakewithb or tag me @baranbakery , I'd LOVE to see it! If you have any question that I didn't answer on here, feel free to comment down below or send me a message here. Thanks for stopping by loves, have a blessed day.
Love, B
Yield: 8 slices
Reversed Dobos Recipe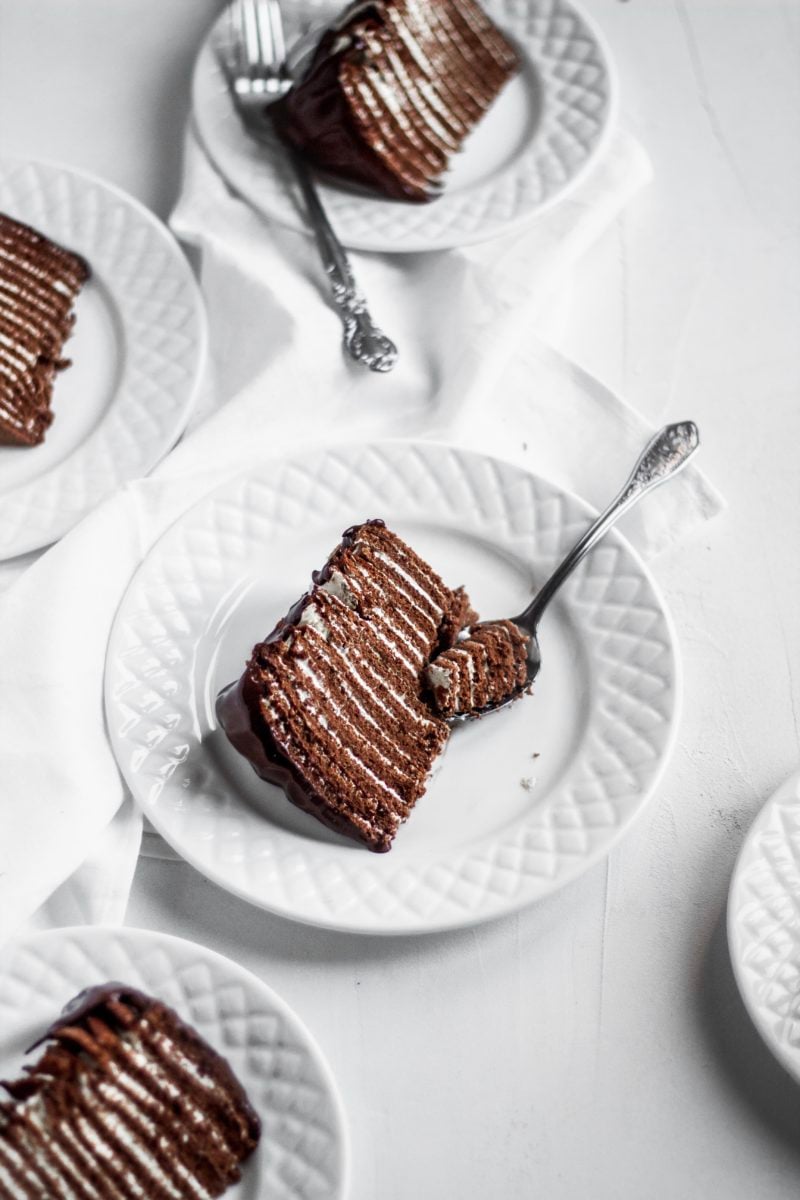 Traditional Hungarian Dobos Torta made with opposite flavors for the sponge and cream. 15 layers of chocolate sponge cake with vanilla diplomat cream!
Total Time
13 hours
5 minutes
Ingredients
Buttercream
4 large egg yolks, room temperature
1/4 cup granulated sugar
1/2 cup butter softened
8 oz cool whip
1 Tbsp vanilla
Cake
1 cup all-purpose flour, spooned and leveled
3/4 cup Dutch-process cocoa powder, spooned and leveled
9 large eggs, separated and room temperature
3/4 cup granulated sugar
1/2 cup canola oil
Ganache
1 cup heavy cream
2 cup dark chocolate
Instructions
Vanilla Diplomat Cream
Begin with beating the egg yolks and the sugar a few minutes, until it turns pale yellow. Place the mixture over a double boiler and add the butter, whisking continuously until it thickens. It might look like it is separating at one point- just keep whisking. Once it comes back together, let it thicken similar to the consistency of ranch- still runny but it feels thick and creamy.
Allow it to cool completely (leave it out a few hours and do not refrigerate before adding the cool whip- it will look even thicker at this point). After it has cooled, add in the cool whip and vanilla. Beat until fully combined and refrigerate it until it is time to assemble the cake (don't leave out at room temperature for more than a few hours).
Chocolate Sponge Cake
Preheat the oven to 425F (218C) convection (400F/204C conventional) and combine the flour and cocoa powder and set aside.
On medium speed, begin beating the egg whites and slowly add in the sugar, like the start of a meringue. Beat until it is about doubled. Add in the egg yolks and beat until fully combined. Then add in the oil and beat until fully combined.
Lower the speed to low-medium and slowly add in the flour mixture. Mix just until it is combined.
Grease the bottom side of an 8" cake pan and use just enough batter to cover the surface of the pan. Make sure to go all the way to the edge but not past it. Bake for about 4-7 minutes. Remove from the oven and use a knife to release the cake from the pan.
Assemble
Once a few layers are baked and cooled, you can begin assembling the cake. Place a layer of the cake on a cake stand and top with a layer of the buttercream that is about the same thickness as the cake layers . Repeat until all layers of cake and buttercream are used (I had 15 layers).
Ganache
Heat the heavy cream in a sauce pan and just before boiling, remove it and pour over the chocolate. Let it sit for a minute and then stir until it is silky smooth. Pour over the cake and allow it to set in the fridge before serving.
Notes
The runnier you leave the buttercream base, the runnier it will be when it is finished and it will make it more difficult to put together. You don't want to over cook the buttercream base because it can burn. You will know it's burned because it turns grainy.
You can make an 8″ (or a shorter 9″) cake or two 6″ cakes with this batter. For the 6″, you will want to bake each layer for 4-5 minutes and for a larger cake, about 6-7 minutes.
I put one pan in the oven and then two minutes later I put the other in, so it made an assembly line. By the time I finished removing one from the oven and putting the new one in, the second pan was ready to come out.
Recommended Products
As an Amazon Associate and member of other affiliate programs, I earn from qualifying purchases.
Nutrition Information:
Yield:
8
Serving Size:
1
Amount Per Serving:
Calories:

927
Total Fat:

69g
Saturated Fat:

34g
Trans Fat:

1g
Unsaturated Fat:

30g
Cholesterol:

366mg
Sodium:

199mg
Carbohydrates:

59g
Fiber:

7g
Sugar:

33g
Protein:

18g
Nutrition information may not be fully accurate.