Death by chocolate cake made up of layers of dark cake made with dutch-processed cocoa powder and a rich chocolate frosting made with a melted chocolate sauce.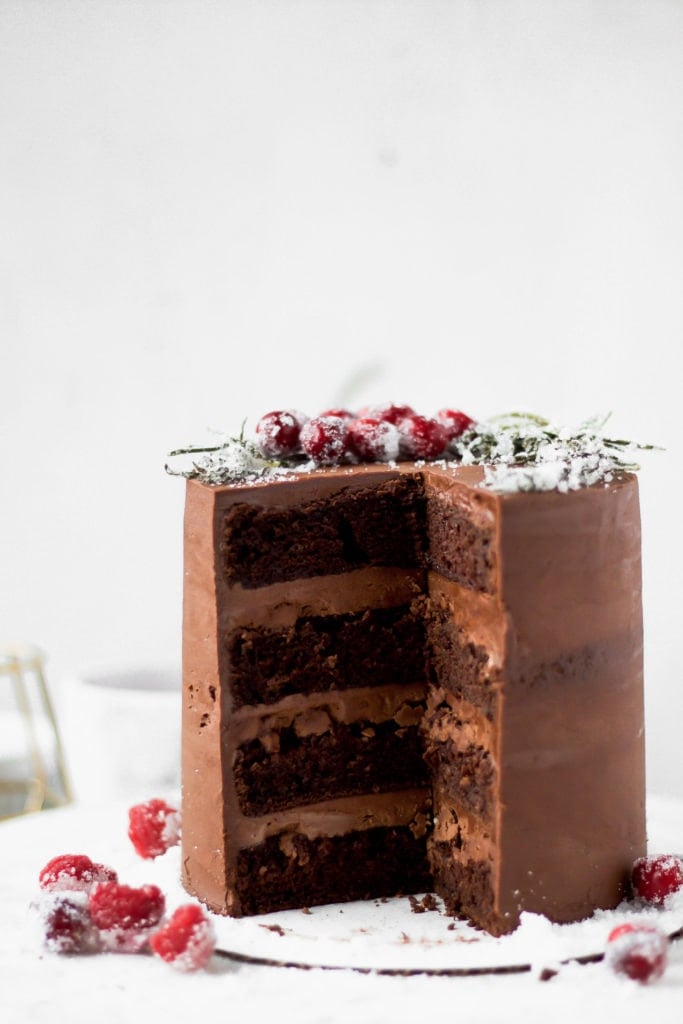 Friends!! I'm so excited to share this recipe with you guys. My husband is not much of a sweets eater but he is a big fan of chocolate desserts. This year he asked for a chocolate cake recipe that "is so dark it makes it hard to breathe".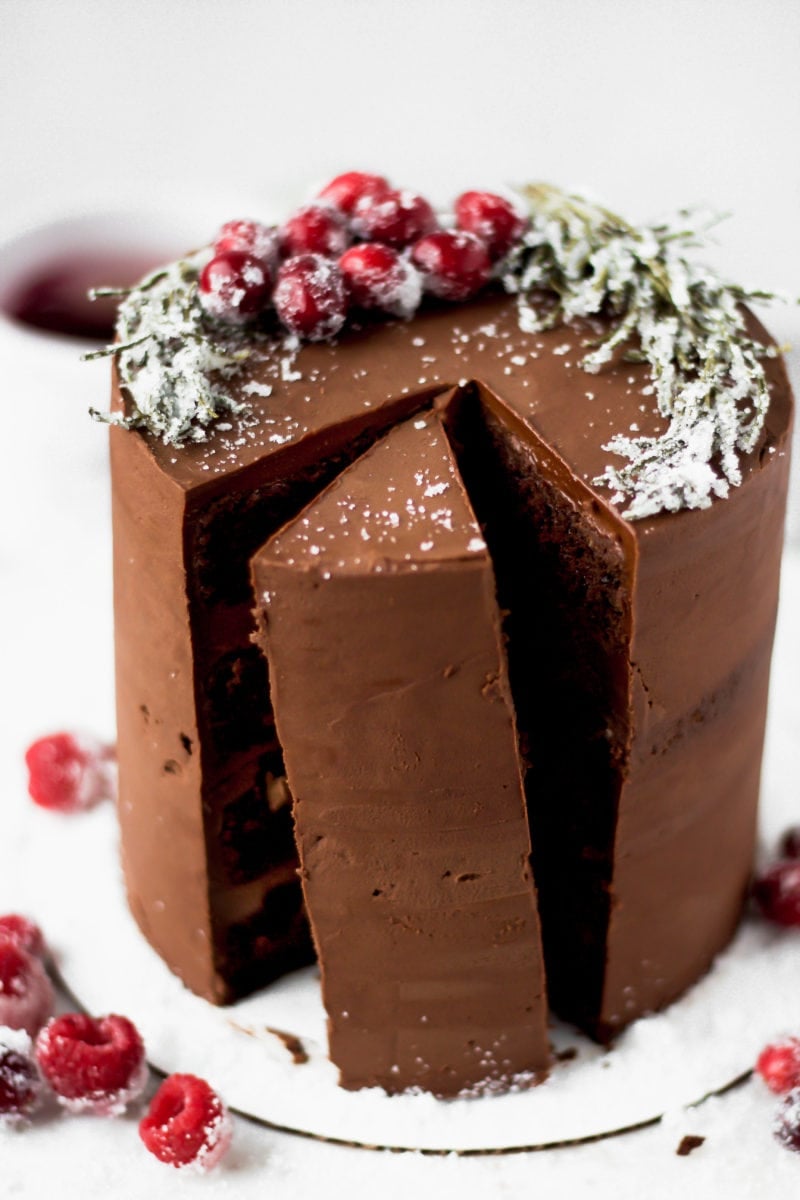 What is death by chocolate cake?
To me 'death by chocolate' is exactly what my husband described. It's the kind of chocolate cake that needs a glass of milk to make it go down easier. This cake is definitely a chocolate lover's dream come true. Dark chocolate cake layers made with dutch-processed cocoa powder and a thick and luscious chocolate frosting.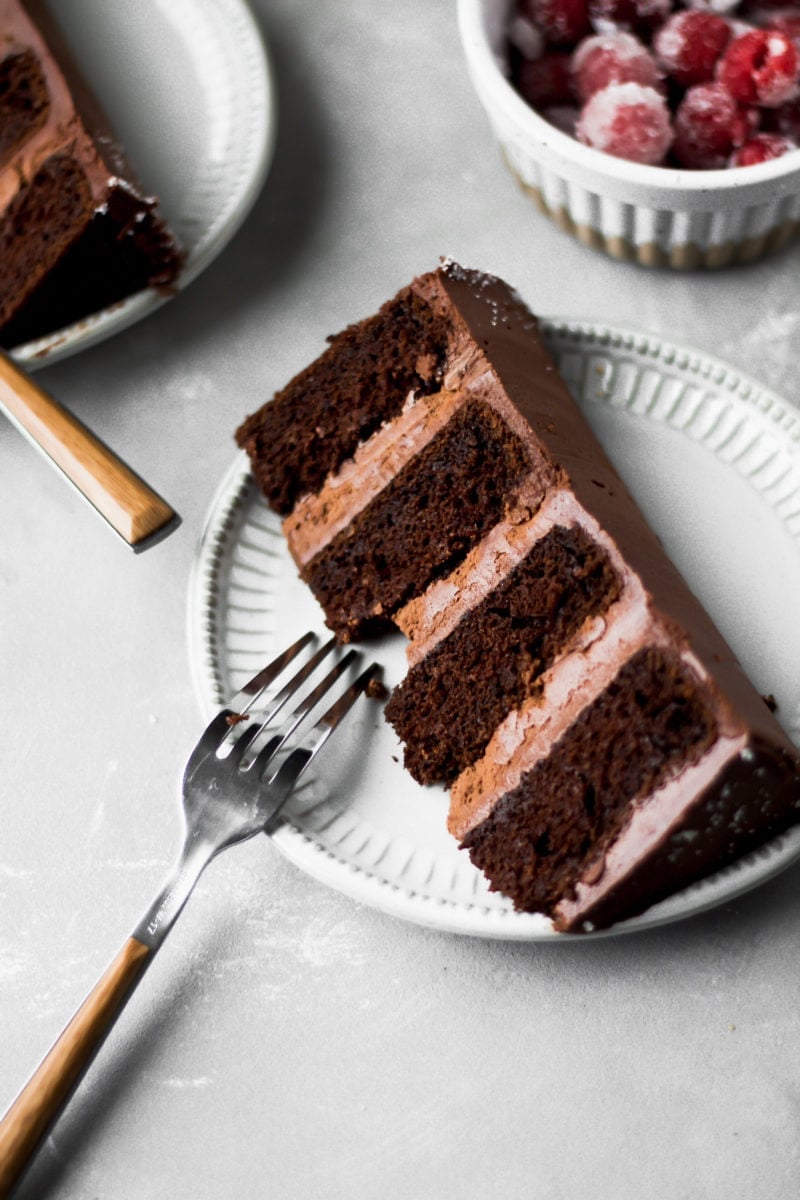 How to make this dark chocolate cake
Dark Chocolate Cake Layers
This chocolate cake is pretty simple to make. The dry ingredients just get whisked together and then get added to a mixture of the wet ingredients. This recipe can be made with regular unsweetened cocoa powder but I highly recommend using dutch-process for a darker, richer flavor. If you're not a coffee fan, you can also substitute the coffee for water.
Dark Chocolate Frosting
To make chocolate frosting, I typically just add unsweetened cocoa powder and melted chocolate chips to it but not for this baby. When ingredients are cooked, the flavors tend to change a little so to make this chocolate frosting a little more unique and rich, I made a chocolate sauce, let it cool and then added it to the buttercream.
Frosting the cake
I kept this cake pretty simple. It's just the chocolate cake layers with the chocolate frosting and then topped with some candied rosemary and cranberries to make it festive. You could also make some chocolate ganache to drip on the edge of the cake or just top it with chocolate shavings or fresh fruit.
To make a chocolate ganache, heat ½ cup of dark chocolate and ½ cup of heavy cream, mix until it's smooth and then use a spoon to drip it along the edge of the cake.
How to store chocolate cake
The cake can be stored at room temperature for 1-2 days but I recommend refrigerating it if it's not consumed by them. If the cake is sliced, cover each slice with plastic wrap or store it in an airtight container.
The cake can also be frozen for 1-2 months, just make sure to properly wrap the cake. Wrap each slice tightly in plastic wrap and then either store it an airtight container or in freezer bags. Keep each slice separate to remove them when needed.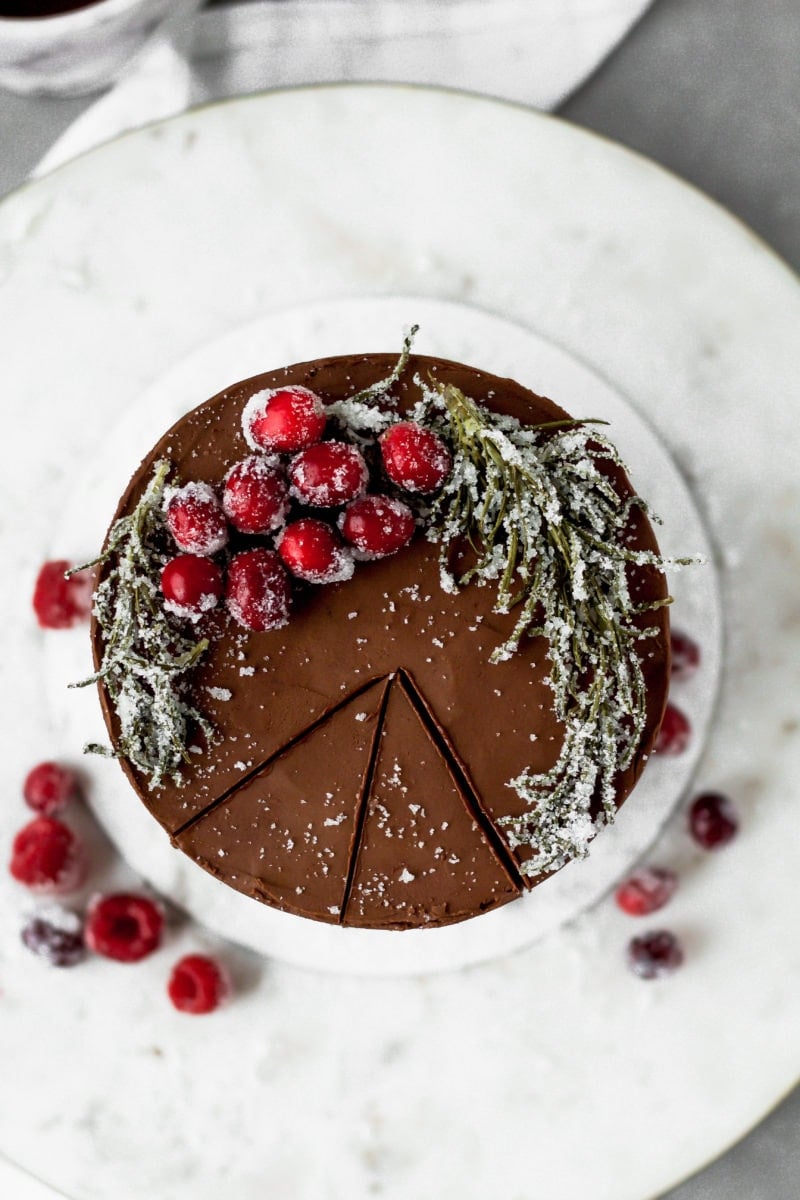 Thanks so much for checking out this death by chocolate cake and if you make it, make sure to tag me @baranbakery on instagram so I can see your gorgeous cake! As always, have a blessed day and happy baking!
Love, B
Yield: 8-10 servings
Death By Chocolate Cake Recipe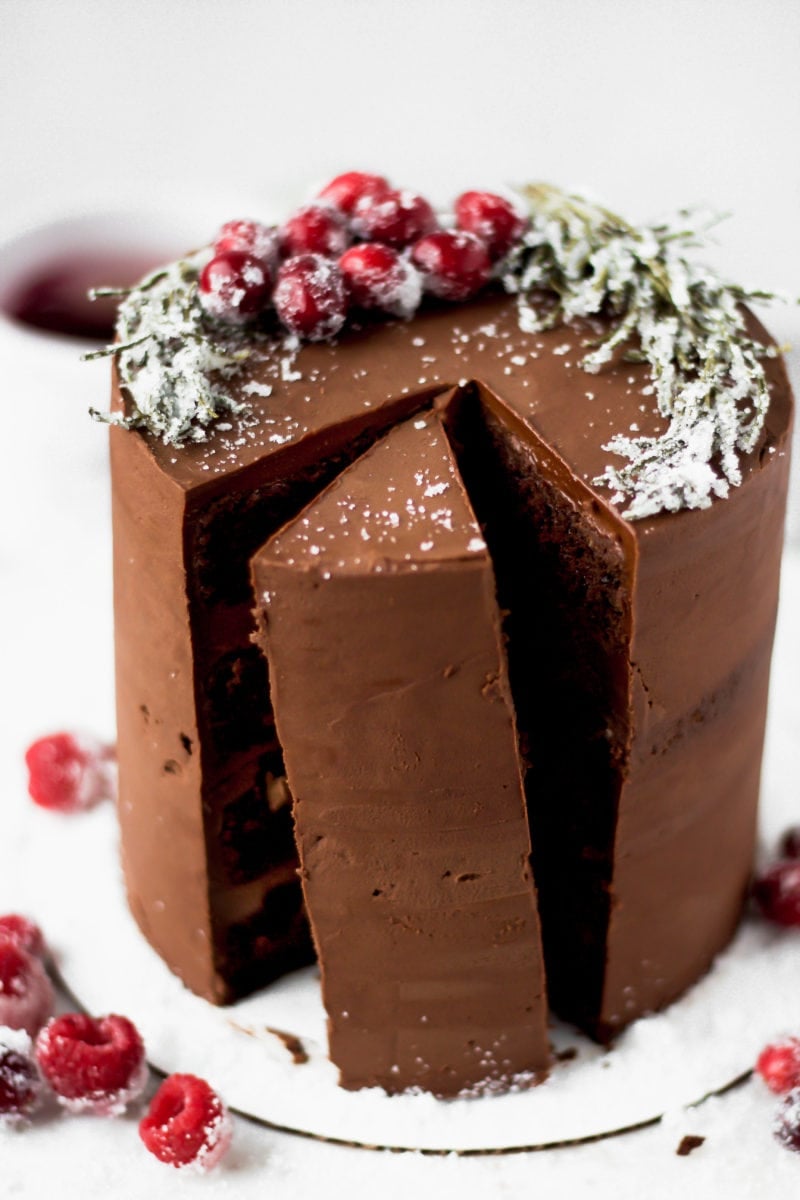 Layers of dark cake made with Dutch-process cocoa powder and a rich chocolate frosting made with a melted chocolate sauce. 
Total Time
4 hours
35 minutes
Ingredients
Chocolate Cake
2 cups (240g) all-purpose flour, spooned and leveled
2 cups (400g) granulated sugar
1 cup (80g) Dutch-process cocoa powder, spooned and leveled
½ tsp baking soda
1 tsp baking powder
½ tsp salt
2 large eggs, room temperature
3/4 cup (177mL) canola oil
3/4 cup (177mL) buttermilk
3/4 cup (177mL) brewed coffee
1 tsp hazelnut extract
Chocolate for Icing
1/2 cup (113g) unsalted butter
1/4 cup (110g) light brown sugar, lightly packed
1/4 cup (40g) unsweetened cocoa powder, spooned and leveled
1 cup (6oz) dark chocolate chips
Chocolate Icing
1 cup (227g) unsalted butter, softened
3 1/2 cup (420g) powdered sugar, spooned and leveled
1/4 cup (40g) unsweetened cocoa powder, spooned and leveled
1/4 tsp salt
1-2 Tbsp (15-30mL) heavy whipping cream
1 tsp vanilla bean paste (or vanilla extract)
Topping
1 cup water
1 cup granulated sugar
10-15 cranberries
4-5 rosemary stems
granulated sugar for coating
Instructions
Chocolate Cake
For the chocolate cake, begin by preheating the oven to 350F/177C convection (325F/163C conventional) and grease and line the base of four 6-inch (20cm) cake pans.
In a medium bowl, whisk together the flour, granulated sugar, cocoa powder, baking soda, baking powder and salt. Set the dry ingredients aside.
In a large bowl, whisk together the eggs, oil, buttermilk, coffee and hazelnut extract until they are well combined.
Sift the dry ingredients over the wet ingredients and fold them together just until the last streak of flour is combined.
Distribute the batter evenly among the prepared cake pans (about 11 oz per 6-inch pan). Bake for 30 minutes, until the center of the cake springs back when it's poked or a toothpick inserted comes out clean. Remove the cakes from the pan and allow them to cool completely.
Chocolate for Icing
Combine the butter and brown sugar in a saucepan over medium heat, and stir for a few minutes until the sugar is fully dissolved.
Add in the cocoa powder, mixing until it's dissolved and then stir in the chocolate chips and mix until it's all melted and smooth.
Remove from the heat and allow the chocolate sauce to cool to room temperature before using. Make sure to stir it every once in a while so it doesn't harden completely (if it hardens too much, microwave it for 10 seconds and stir).
Chocolate Frosting
In the bowl of a stand mixer, beat the butter with a flat beater until it's pale and fluffy. Add in the powdered sugar, cocoa powder and salt and beat the frosting for 5-10 minutes until the sugar is fully dissolved.
Add in the heavy cream, cooled chocolate sauce mixture and the vanilla bean paste and beat until the chocolate is fully incorporated and the frosting looks smooth.
Assemble
Trim the tops of the cooled cakes (if they're domed) and frost the first layer with the chocolate frosting, about a 1/4-inch thick. Repeat with the next three layers.*
When the cake is fully stacked, refrigerate for 1-2 hours and then finish frosting the sides and top of the cake.**
To make candied cranberries and rosemary, bring 1 cup water with 1 cup sugar to a boil, place the cranberries and the rosemary in the water and allow them to simmer.
Remove the cranberries after a couple of minutes and roll them in granulated sugar. Allow them to dry completely before using. Allow the rosemary to simmer for about 20-30 minutes. Remove them and roll them in granulated sugar and allow them to dry completely before using.
Notes
*If you feel like the cake is getting unstable at any point, place it in the refrigerator for about 30-60 minutes and then finish frosting it. The buttercream gets firm in the fridge so make sure to gently smooth out the edges if any buttercream squeezes out between the layers.
**Chelsweets has a great tutorial on how to frost a cake if you've never frosted a layer cake before.
Nutrition Information:
Yield:
10
Serving Size:
1
Amount Per Serving:
Calories:

980
Total Fat:

53g
Saturated Fat:

23g
Trans Fat:

0g
Unsaturated Fat:

27g
Cholesterol:

116mg
Sodium:

347mg
Carbohydrates:

121g
Fiber:

4g
Sugar:

91g
Protein:

8g
Nutrition information may not be fully accurate.