Croissant with Apricot Jam
I've been wanting to share this recipe since February…that's when my mom taught me how to make these. I didn't like the photos I took & never got around to making them again, I don't know why. Sooo my apologies for keeping this deliciousness from you for almost a year. Hope you forgive me.
Growing up, my mom made these ALL THE TIME! It was our favorite, along with crepes. So they're called croissants with jam in Romanian because they look like little croissants but they taste nothing like a croissant, lol. It's not buttery & not at all flakey. It's honestly more of a cinnamon rollish texture?! It's basically a fluffy roll stuffed with apricot jam. You need the apricot jam guys. It's so much better than it sounds & looks, I promise! However, you can substitute it with Nutella, that's amazing too (but this is better).
So the only way for you to really understand my description of these is to make them & taste them! You won't regret all the work you put into these babies when you take a bite of that pillowy dough filled with the world's best jam flavor! That may be the nostalgia talking a little, lol you can fill these with whatever flavor jam you want but I highly recommend apricot. Also make sure your jam is a thicker consistency. You don't want liquid leaking out of your croissant!
Ok I need to write like at least five more posts & edit some photos & stufffffff so Ima let you get started since these take a minute to make. Make sure to tag yours truly on the gram @baranbakery or #bakewithb so I can pretend we're actually eating together! As always,
Love, B
Yield: 20 croissants
Romanian Croissants With Apricot Jam Recipe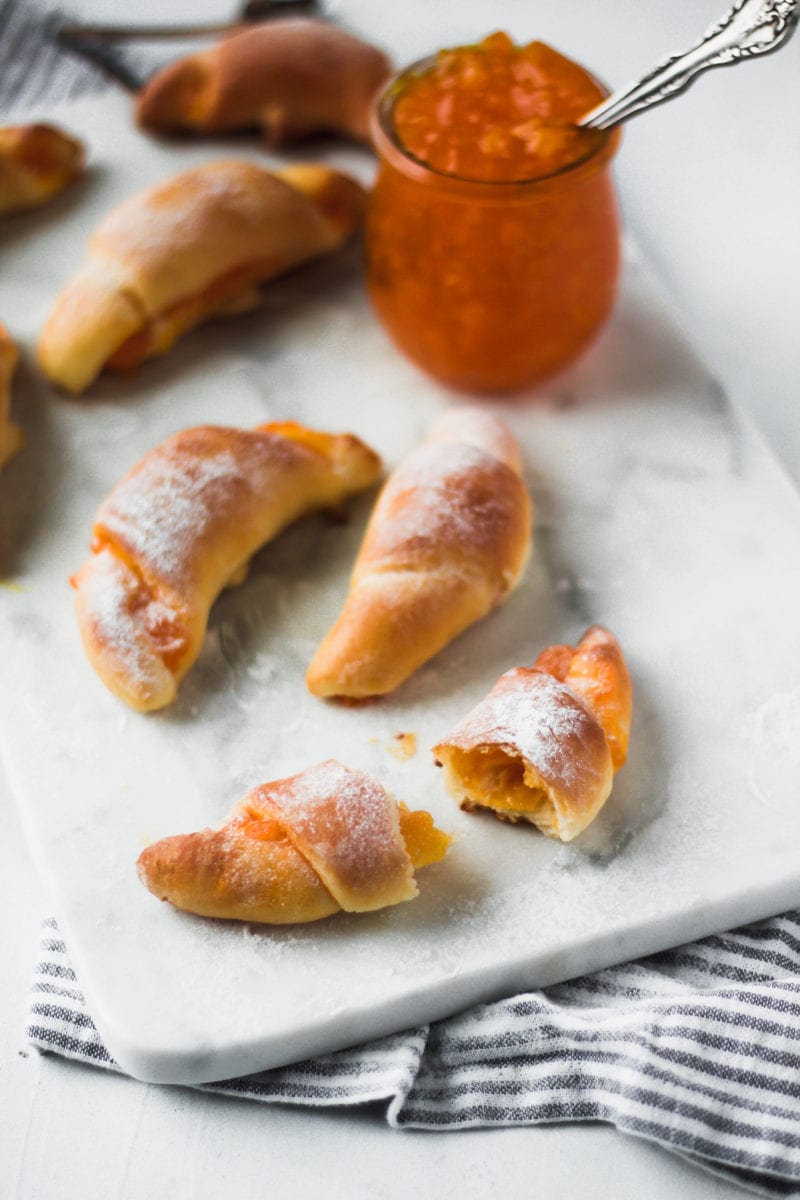 Fluffy dough rolled and filled with apricot jam, or any flavor you desire!
Ingredients
1/2 small potato, boiled
2 cup all-purpose flour, spooned and leveled
1/2 envelope active dry yeast (about 1 tsp)
1 Tbsp granulated sugar
1/2 tsp salt
1/3 cup warm water
3/4 cup warm milk
1/4 cup canola oil
1 Tbsp sour cream
1 egg yolk
1 cup apricot jam
Instructions
Begin with boiling a small potato and set it aside to cool.
Place the flour in the bowl of a mixer and make a small well in the center. Put the yeast in the center of the well and sprinkle the sugar over the whole mixture (so some gets on the yeast). Place the salt on the edges of the bowl, not touching the yeast. Pour about 2 Tbsp of the warm water on the yeast and let it sit for about 10 minutes.
Meanwhile, warm up the milk and mix it with the warm water, oil, sour cream and egg yolk. (It shouldn't be too hot that it cooks the egg yolk). Peel the potato and smash or grate it into the liquid mixture,
By now the yeast and water should have foamed up a little. With the hook attachment, start the mixture on low-medium speed and slowly begin pouring in the liquid mixture.
The dough will be quite sticky when it's come together. Grease the sides of the bowl so the dough doesn't stick as much when you try to remove it. Cover it and place it in a warm environment to rise until it's doubled, about 1 hour.
Once the dough has doubled, remove it from the bowl and separate it into four sections. Spread each one to about 10-12" in diameter and then slice it into 8 triangles, like a pizza.
Spread about 1 tsp of jam onto each triangle (keeping it only on the wide half), then start with the back end and go towards the tip and roll TIGHLY into the shape of a croissant. Then shape them into a crescent shape and let them rise on the baking pan for about 15-20 minutes.
Preheat the oven to 350F/177C convection (325F/163C conventional). Bake for about 30 minutes, until they're a nice golden brown.
Serve them warm or at room temperature. Store the left overs in an airtight container or plastic bag.
Notes
Make sure to use a jam that is not AT ALL liquid-y, it will leak out.
You can freeze them in a sealed bag for weeks!
Recommended Products
As an Amazon Associate and member of other affiliate programs, I earn from qualifying purchases.
Nutrition Information:
Yield:
20
Serving Size:
1
Amount Per Serving:
Calories:

123
Total Fat:

3g
Saturated Fat:

0g
Trans Fat:

0g
Unsaturated Fat:

3g
Cholesterol:

10mg
Sodium:

70mg
Carbohydrates:

22g
Fiber:

0g
Sugar:

8g
Protein:

2g
Nutrition information may not be fully accurate.