These thin, chewy, and fudgy cosmic brownies with chocolate ganache and sprinkles will take you back to your fondest childhood memories!
If you haven't heard, the 90s are in and there's nothing more nostalgic for a 90s kid than cosmic brownies. Soooooo we're making cosmic brownies today!!!
I actually went out a bought cosmic brownies just to try them again and I won't say they weren't good but they were definitely disappointing. These delicious homemade brownies with fudgy chocolate ganache and sprinkles on top were such a treat though! I'm super excited to bring you this recipe and hope it lives up to your childhood memories.
How to make cosmic brownies
A traditional cosmic brownie is a thin fudge brownie with chocolate ganache on top and colorful sprinkles. They are called cosmic brownies because they were inspired by the cosmic bowling trend in the late 90s.
Mine are a combination of My PERFECT Fudge Brownies and the chocolate sugar cookie bars from Frosted. They're thinner, fudgy and chewy to stay true to the original cosmic brownie.
Brownie
When developing this recipe I didn't want it exactly like the Little Debbie Cosmic Brownies because I felt like it was a little too sweet for me. I also felt like it lacked chocolate flavor.
I would say these brownies are more of an adult version and I think you'll like them better too!
Ingredients:
Butter: You're going to melt the butter so you can use cold or room temperature, but it's faster if it's room temperature.
Sugar: These cosmic brownies are already less sweet as the ones you buy, so don't skimp out on the sugar. Sugar also gives it a chewier texture so if you cut back a little, you can expect less chew.
Egg: I always use large, room temperature eggs and you only need one. If you forget to take it out of the fridge in time you can put it in hot water for 5-10 minutes.
Flour: All-purpose flour is my go to because most people have it at home. I recommend a digital scale for baking in general, but especially when measuring flour. If you don't use a scale, please, please, please fluff up the flour with a spoon and then spoon it into the measuring cup, leveling it off at the top.
Cocoa Powder: I love the color and richness in flavor from dutch-process cocoa powder. I HIGHLY recommend it for these brownies but natural will work too.
Chocolate: I use milk chocolate in my brownies and dark chocolate in the ganache to balance it out. If you like it darker, you can use all dark or if you want it sweeter, use all milk.
Sprinkles: If you want to stay true to cosmic brownies, you're going to want to use candy coated chocolate chip sprinkles. They're sooo much better than regular sprinkles.
Chocolate Ganache
I used dark chocolate in the ganache to make them taste more elevated and less sweet than the originals. If you want them closer to a true cosmic brownie flavor you can use milk chocolate but I would do 1/4 cup of cream instead of 1/3 cup.
Frequently Asked Questions (FAQs)
How do I know when my cosmic brownies are done baking?
In general I don't recommend the toothpick test for brownies. It especially doesn't work for cosmic brownies because they are so thin. To check your brownies, push your finger in the center. If you feel light resistance they are ok to remove from the oven. If it is too firm they are over baked and little to no resistance (feels wet) means they need another couple of minutes.
Do I need to add sprinkles?
You can certainly make these without the sprinkles but honestly, thats' my favorite part and I'm not even a sprinkles person. It's what makes them cosmic brownies and they give such a nice textural contrast with that crunch.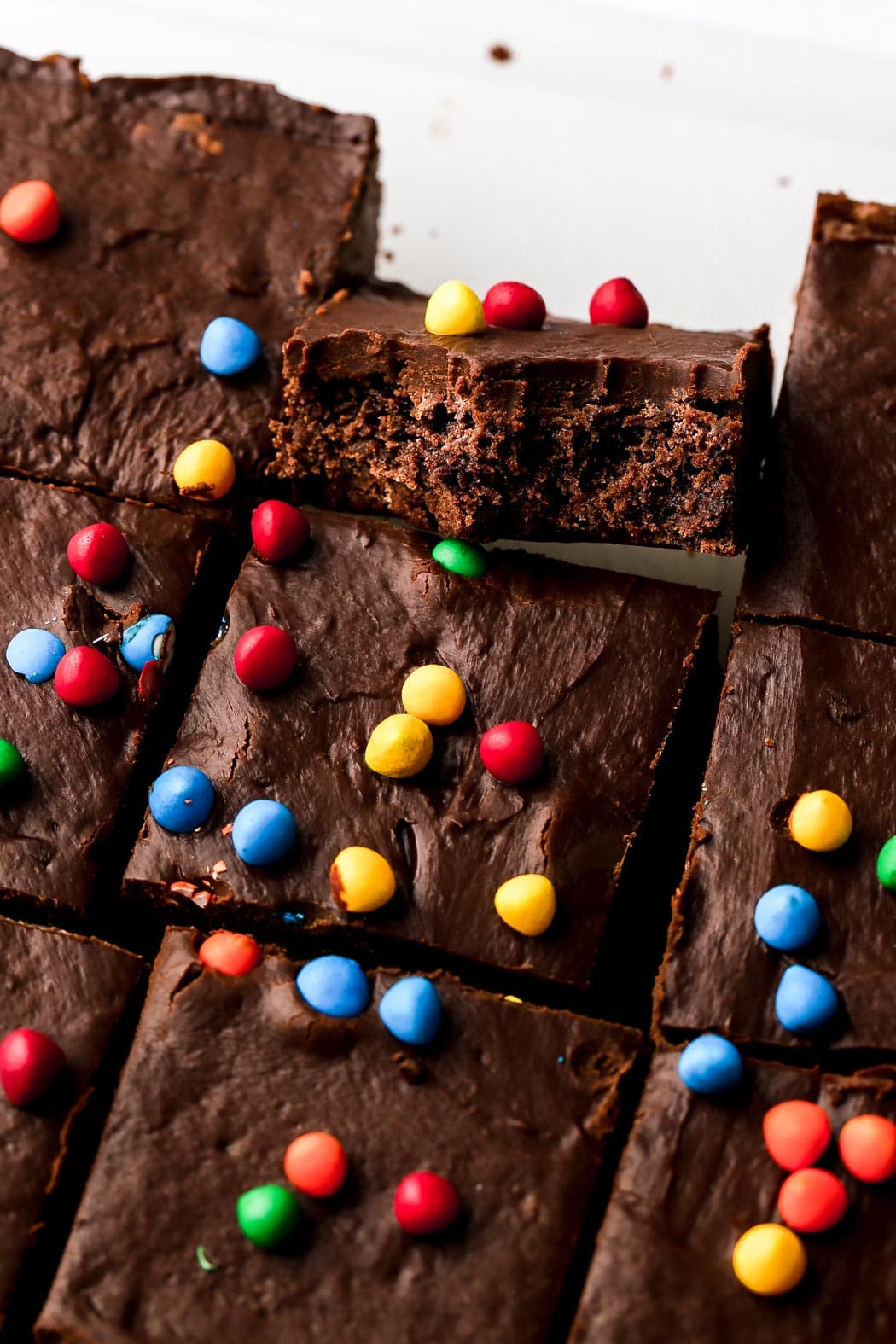 How to store cosmic brownies
Store your cooled brownies at room temperature in an airtight container for a few days or in the refrigerator for 7-10 days. To serve, let them sit on the counter until they reach room temperature. You can also freeze them for 2-3 months them in an airtight container or a freezer bag, squeezing out all the excess air.
Thanks so much for reading today's post! If you have any questions just comment down below, I'm happy to answer! If you make these cosmic brownies I would love to see the results, so please make sure to tag me @baranbakery on instagram and order my cookbook, Frosted. As always, have a blessed day and happy baking!
Love, B
Yield: 16 pieces
Cosmic Brownies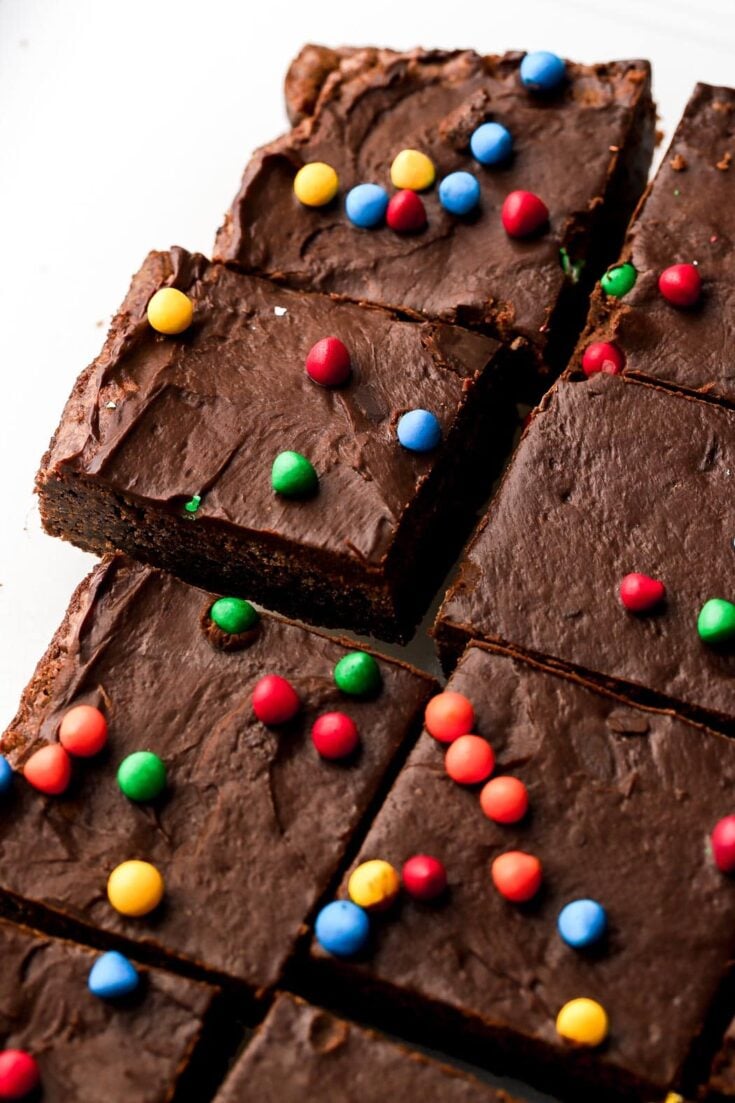 These thin, chewy and fudgy cosmic brownies with chocolate ganache and sprinkles will take you back to your fondest childhood memories! 
Total Time
2 hours
30 minutes
Ingredients
Brownies
3/4 cup (90g) all-purpose flour, spooned and leveled
1/4 cup (20g) dutch-process cocoa powder, spooned and leveled
1/4 tsp salt
1/2 cup (3 oz) milk chocolate chips
1/2 cup (113g) unsalted butter
3/4 cup (150g) granulated sugar
1 large egg, room temperature
1 tsp vanilla extract
Topping
1 cup (6oz) dark chocolate chips
1/3 cup (78mL) heavy whipping cream
Instructions
Brownies
Preheat the oven to 350F (177C) and grease and line an 8 inch square pan.
In a small bowl, whisk together the flour, cocoa powder and salt.
In a large bowl, microwave (or in a saucepan on the stove) together the milk chocolate and the butter and mix until they're combined.
Add in the granulated sugar and whisk until it's smooth, followed by the egg and vanilla. Mix just until they're fully combined and smooth.
Fold the dry ingredients into the batter, just until the last streak of flour is combined.
Bake at 350F (177C) for 18-20 minutes. To check if they are done, press on it gently. There should be a little resistance and not feel liquidy. Allow the brownies to cool to room temperature.
Topping
Place the chocolate chips in a medium size bowl and set aside. Place the cream in a small saucepan, over medium-low heat, and bring to a gentle simmer.
Swirl the pan to make sure it is heating evenly. You want the edge of the cream to be bubbling, not the whole cream boiling.
Pour the cream over the chocolate chips and cover with a lid for 2-3 minutes. Then slowly stir the chocolate and cream until they're smooth and combined.
Spread on top of the cooled brownies and top with rainbow chocolate sprinkles.
Allow the ganache to set before slicing. I like to freeze it for an hour or refrigerate for 2-3 hours.
Nutrition Information:
Yield:
16
Serving Size:
1
Amount Per Serving:
Calories:

221
Total Fat:

13g
Saturated Fat:

8g
Trans Fat:

0g
Unsaturated Fat:

4g
Cholesterol:

34mg
Sodium:

50mg
Carbohydrates:

24g
Fiber:

1g
Sugar:

17g
Protein:

2g
Nutrition information may not be fully accurate.