Easy and quick homemade buttermilk pie crust for all of your pastry needs. Used for traditional pies, galettes, hand-pies and more!
Pies, pies, pies. I think some people consider summer as pie season??? but for me, it's always been fall. I'm ALL OVER the pumpkin pie, apple pie & pecan pie train so I'm going to help you get prepared for the greatest pie season with the easiest buttermilk pie crust!
Basics of Pie Dough
Classic pie dough is what's known as pate brisee, which essentially means 'broken dough'. It's a flakey shortcrust pastry that's made with COLD butter. To get get that flaky texture, the fat from the cold butter melts away, creating air pockets and the water from the butter releases as steam, expanding the air pockets and creating a very 'airy'/flaky texture.
How to use pie dough
This dough can be used for traditional pies, hand pies or pop tarts, galettes, tarts, turnovers (sweet or savory), pigs in a blanket, flaky cinnamon rolls, etc.
One thing you should keep in mind though is that if your dough is at room temperature when it's going into the oven, it will shrivel while baking. If you can, it's best to refrigerate your pastry until the dough is solid after shaping and before baking.
For example, I just made pop tarts with this dough & I rolled it out, cut squares, filled them, refrigerate for about an hour, then egg wash & bake. I tested some without refrigerating & the dough shrunk awkwardly so they turned out all lopsided.
Sticky Dough
Something that most people struggle with when making pie dough, is stickiness. No one wants a sticky mess; half your pie dough stuck to the counter after you roll it out. Then you try to re-roll it and now you're increasing the gluten formation, making your texture tough instead of tender. No thanks.
Tips to prevent sticky pie dough
Observe your surrounding temperature/humidity. If it's hot/humid out, turn that AC up while you're working with the dough.
Use butter & buttermilk straight from the fridge (pre-measure & put it back in the fridge until you need it).
Sometimes I refrigerate my flour while I'm cubing my butter.
Preheat your oven after you're done working with the dough & it's in the fridge.
When your dough is coming together, it may still look a little crumbly, but don't add more liquid, just remove it from the food processor & combine it with your hands, just until it comes together.
Refrigerate for 30-60 minutes right after it's come together, before shaping the dough.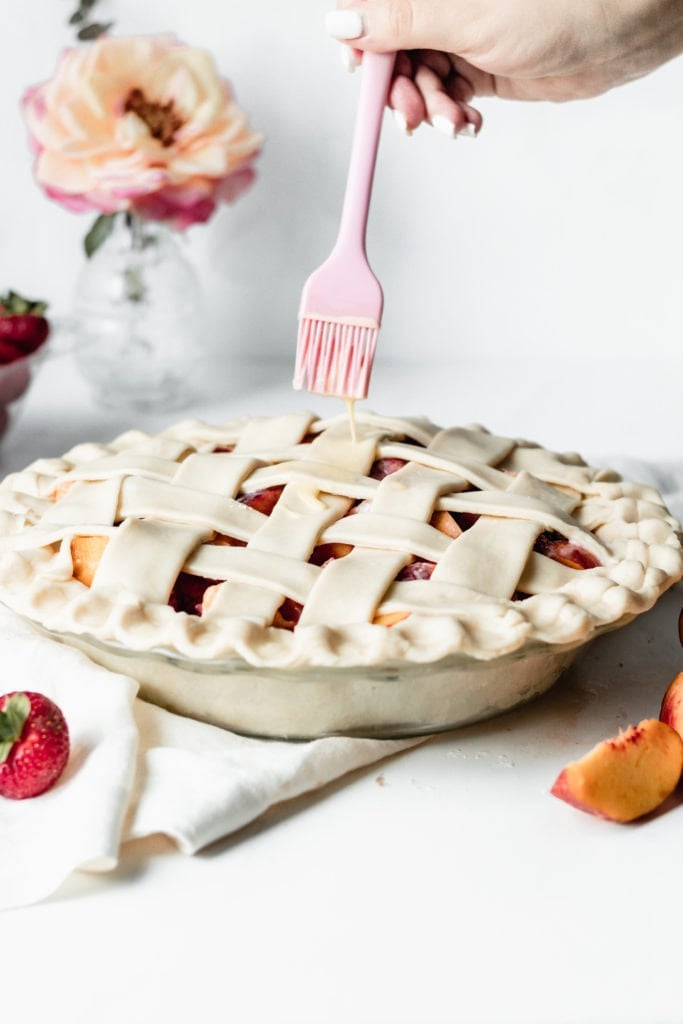 I hope this post was helpful for all your pie lovers out there. I think most people have a love/hate relationship with pie (tastes good, tedious to make) but this recipe has never failed me! If you make something with it, I'd love to see, make sure to tag me @baranbakery on instagram! As always,
Love, B
Yield: 1 batch
Buttermilk Pie Crust Recipe
The perfect pie crust base that you can use for anything- from pies to poptarts and anything in between!
Additional Time
30 minutes
Ingredients
2 cup (250g) all-purpose flour, spooned and leveled
1/2 tsp salt
1 Tbsp granulated sugar
3/4 cup (170g) unsalted butter, cold and cubed
1/3 cup (78mL) cold buttermilk
1 large egg + splash of milk for egg wash
Instructions
Combine the flour, salt and sugar in a food processor.
Place the cubes of butter on top of the flour and mix in the food processor until the butter is evenly distributed. It will turn into chunky crumbles.
Continue mixing as you slowly pour in the cold buttermilk. Mix until it is fully combined, but don't over-mix. The dough may be a little crumbly but it will come together when you roll it out.
Remove the dough from the food processor and form it into a disc (it doesnt matter what size)- it should all stick together now. Cover it with plastic wrap and refrigerate it for about 30 minutes.
Remove from the fridge and use it for whatever recipe you desire. For the egg wash, combine the egg and a splash of milk. It bakes anywhere from 325F (163C) to 425F (218C) with different recipes.
Notes
You can make this with water instead of buttermilk. It will turn out great, it just won't have as rich a flavor.
It isn't necessary to refrigerate before rolling it out, but depending on the temperature/humidity in your home, it may be easier to work with if you do.
Whatever recipe you're using this for, keep in mind that if you don't refrigerate before baking, it will shrink. You want the dough to be pretty solid before going into the oven.
Recommended Products
As an Amazon Associate and member of other affiliate programs, I earn from qualifying purchases.
Nutrition Information:
Yield:
10
Serving Size:
1
Amount Per Serving:
Calories:

236
Total Fat:

15g
Saturated Fat:

9g
Trans Fat:

0g
Unsaturated Fat:

5g
Cholesterol:

74mg
Sodium:

149mg
Carbohydrates:

21g
Fiber:

1g
Sugar:

2g
Protein:

4g
Nutrition information may not be fully accurate.