We arrived in Paris Friday afternoon which gave us about a day and a half for exploring the city. It was mid September when we went and it was fairly chilly. We spent most of our afternoon in Jardin Des Tuileries, which is a garden next to the Louvre. They have a couple cafes and restaurants there so we had dinner here and then to warm up a bit we had to try our first European coffee and you can't get coffee without getting crepes in Paris. I don't know what I was thinking but I have absolutely no pictures of the marvelous crepes we ate in Europe…not one picture! 
Heeled booties, similar pair here | Jeans | Similar cardigan here, here and here | Scarf | Shades | Crossbody bag is by Steve Madden, different color but similar style here
I don't remember what this restaurant is called but there's only a couple there. Their burgers were delicious!
The Louvre is actually free Friday nights after 6pm for anyone under 26. I forgot my ID and my husband is 27 so we had to pay lol but our friends got in for free. As I mentioned in a previous post, Kissing Europe Goodbye, I decided to wear heeled booties to the Louvre. I did not think we would be out that late and I also didn't think the closest metrostation would be 1.4 miles away from our hotel. It's safe to say my ticket to the Louvre was a waste because I just sat on everything I could squeeze my butt on.
I also love art but I hate museums lol I just figured we'd go because it was free Friday nights (which it wasn't for us) and it's one of Paris' biggest attractions.
Anyway you're not missing out if you don't go inside but the outside is beautiful and definitely worth visiting!  
 Our husbands love each other…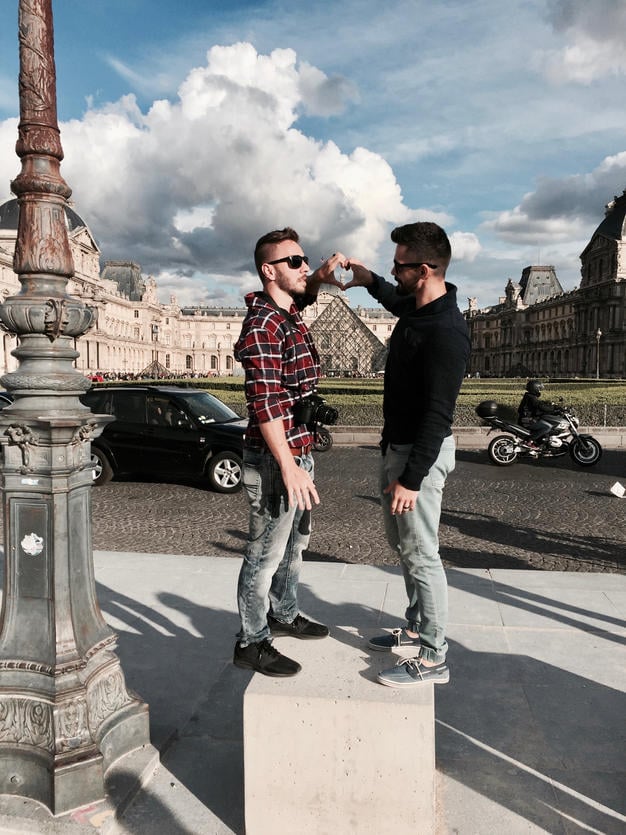 This is basically what I did the whole time. It's pretty sad actually.  
These two photos are not from the Louvre but I must say Parisian architecture is absolutely incredible! The photo above is the Petit Palais, I would've loved to go inside or even take a photo up closer but the line was soooo long! 
My pictures from this day are really random and oddly colored because one of the settings on my DSLR was off and I kept taking photos to try to fix it. We figured it out the next morning so take a look at my next post on Paris to see more pictures! I didn't want this post to drag on so I split it into two. Thanks for reading and as always let me know if you have any questions or suggestions down below!
Love, B