Dark Chocolate Blood Orange Cake
The ultimate dark chocolate blood orange cake entails a super moist and rich chocolate cake infused with blood orange juice and frosted with blood orange buttercream. Top with dark chocolate ganache and candied orange slices.
Soooo this was my first time baking with blood oranges and oh my goodness, are they beautiful or what?! Not only are they easy on the eyes but I got pretty lucky with those dark ones, they are so flavorful.
The easiest chocolate cake recipe ever
Going to be totally transparent here, I adopted this recipe from Tasty's Blood Orange Chocolate Olive Oil Cake. When an idea pops into my head I always google it to see what others have done and when I saw how MOIST this cake looked, I had to try it. Let me just tell you, this cake crumb is phenomenal!
Oh, and did I mention the chocolate cake is also vegan?! So if you want to use a vegan butter for the frosting, you totally can. Ingredients for this cake are super simple:
Flour
Unsweetened Cocoa Powder
Granulated Sugar
Baking Soda
Salt
Blood Oranges
Olive Oil
Water
Better yet, there's basically four steps to this recipe:
Zest and juice all the blood oranges.
Whisk together all the dry ingredients plus the sugar.
Combine all the wet ingredients plus the zest.
Fold the wet and dry ingredients together.
How to make blood orange American buttercream
Flavoring American buttercream isn't as easy as it sounds. The steps are simple but you have to get the ratio right because you don't want it to taste too buttery or too sweet. The consistency has to be just right for frosting. Then when you add flavorings like blood orange juice, you can't add too much because it will change the consistency and texture.
You can boil the juice until to evaporate some water but honestly…I'm too lazy for that. I'll take the easy way out and just not do that, LOL. So If you add too much juice, the frosting will either split or just be an odd consistency. If you add too little, you won't taste it. Sooooooo I made up for it by add more blood orange zest and only adding a 1/4 cup of juice.
How to make candied oranges?
I thought this would be so much harder than it was but oh my goodness, it's so easy. You literally just simmer them in water with sugar for 15 minutes and then flip and simmer for another 15 minutes.
You can choose to dip them in granulated sugar for a little sparkle action or just leave them plain and silky. If you dip them in sugar, make sure to do it as soon as you remove them from the hot water because they dry rather quickly. Place them on a drying rack to cool completely before decorating.
How to store dark chocolate blood orange cake?
A fully frosted cake, like this blood orange chocolate cake, does not need to be covered unless it's sliced and an unfrosted area is exposed to air. The cake can stay at room temperature for a couple days but for longer than that, refrigerate. If you've sliced it, store slices in an airtight container. If the cake is still whole with slices cut out, cover the exposed area with plastic wrap to keep it moist.
I hope you all enjoyed this post. I was never an orange chocolate fan but this cake has fully converted me! & isn't it just so beautiful too?! ugh, I'm obsessed. If you make this dark chocolate blood orange cake, make sure to tag me @baranbakery on instagram. As always, have a blessed day and happy baking lovebugs!
Love, B
Yield: 8-12 slices
Dark Chocolate Blood Orange Cake Recipe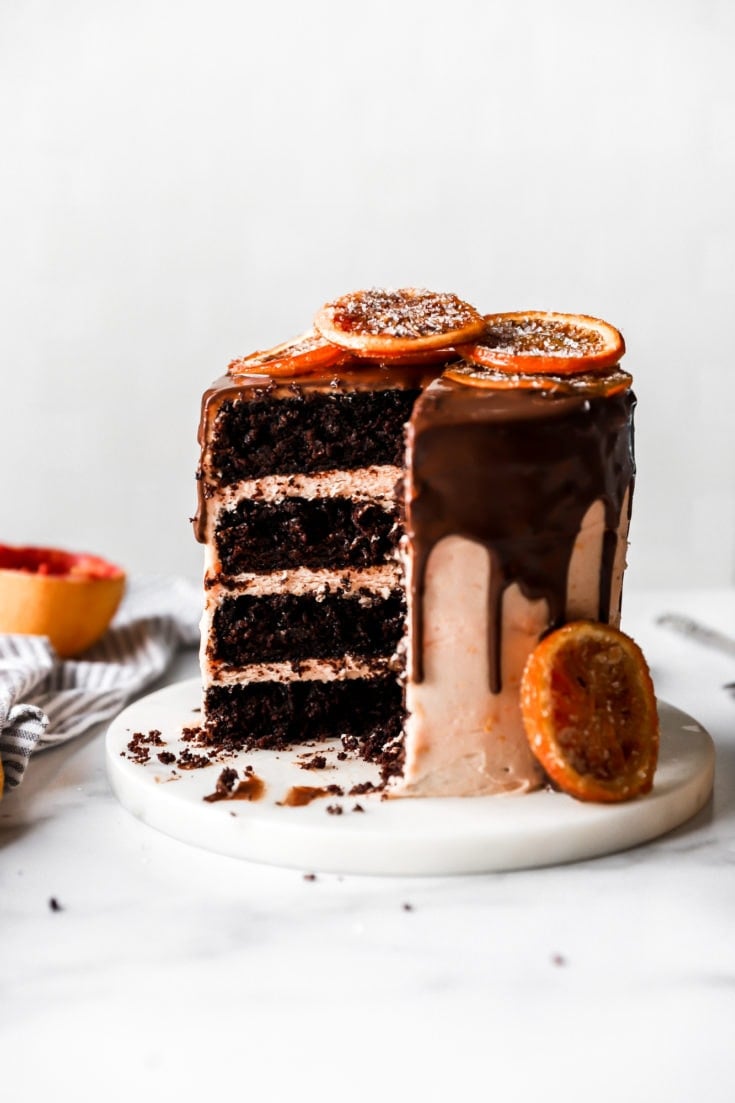 Moist dark chocolate cake infused with blood orange juice and frosted with blood orange buttercream and dark chocolate ganache.
Prep Time
1 hour
30 minutes
Additional Time
30 minutes
Total Time
2 hours
25 minutes
Ingredients
Candied Oranges
1 1/2 (355mL) cups water
1 1/2 cups (300g) granulated sugar
1 medium orange
Dark Chocolate Cake
Zest from 2 oranges 
3/4 cup (177mL) olive oil
3/4 cup (177mL) blood orange juice (about 4 large oranges - reserve the zest for frosting)
2 cups (240g) all-purpose flour, spooned and leveled
1 1/2 cup (300g) granulated sugar
3/4 cup (60g) unsweetened cocoa powder, spooned and leveled
1/2 tsp salt
2 tsp baking soda
1 1/4 cup (296mL) water
Blood Orange Buttercream
1 1/2 cups (3 sticks) unsalted butter, room temperature
zest from 3 blood oranges
6 cups (720g) powdered sugar*, spooned and leveled
1 tsp vanilla extract
1/4 cup (59mL) blood orange juice
Chocolate Ganache
1/2 cup (3 oz) dark chocolate
1/2 cup (118mL) half and half (or 1/4 cup cream with 1/4 cup milk)
Instructions

Candied Oranges
Begin with making candied oranges to give them time to set. In a large shallow saucepan, bring water to a simmer. Add sugar and simmer until the sugar is dissolved in water.
Place sliced oranges in water (not overlapping them) and simmer them on medium heat for 15 minutes. Flip and simmer them on low heat for another 15 minutes.
Remove the oranges and place them on a drying rack to cool OR remove them and roll them in granulated sugar and then place on a drying rack to cool.
Chocolate Cake
Preheat the oven to 350F/177C convection (or 325F/162C conventional) and grease four 6 inch cake pans (or two 8 inch pans).
Use a small grater to zest 5 blood oranges. Place the zest of 2 blood oranges in a large measuring cup with the olive oil. Set aside the zest of 3 blood oranges for the buttercream.
Use a citrus juicer to juice all 5 blood oranges. Reserve 1/4 cup of juice for the buttercream and add 3/4 cup of the blood orange juice to the olive oil mixture.
Combine the flour, sugar, cocoa powder, salt and baking soda in a large bowl and whisk them together.
Add the olive oil mixture and water to the dry ingredients and fold them until smooth.
Distribute the batter evenly between the pans and bake for 20-25 minutes, until a toothpick inserted in the center comes out clean.
Blood Orange Buttercream
Use a stand mixer to beat the butter with the remaining blood orange zest until it's pale and fluffy.
Add half of the powdered sugar and beat until it's incorporated. Add the second half of powdered sugar and beat for 5-10 minutes, until the sugar is fully dissolved and the buttercream feels smooth.
With the mixer on low-medium speed, SLOWLY pour in the vanilla and blood orange juice. Beat until everything is fully combined.
Chocolate Ganache
Place the chocolate in a medium bowl.
In a small sauce pan (or in the microwave), bring the half and half to a simmer. Remove it from the heat and pour it over the chocolate and let it sit for one minute.
Stir the chocolate until it is completely smooth.
Let the chocolate ganache cool for 5-10 minutes before pouring it on top of cake to get nice drips. If it cools too much, microwave it for 10 seconds and stir.
Assemble
Place the first layer of cake on a flat surface and spread about 1/4 of the buttercream on top. Repeat with the next three layers and use the rest of buttercream to frost the outside of the cake.
If at any point the cake feels unsteady, refrigerate it for 15-30 minutes. Once the cake is fully frosted, refrigerate it for at least 30 minutes and then pour the chocolate ganache on top.
Let it set in the refrigerator for another 15 minutes and then top with the candied orange slices.
Notes
*You can always add a little more powdered sugar or a little less, make it to your taste and make sure it's firm enough to keep the cake standing.
Recommended Products
As an Amazon Associate and member of other affiliate programs, I earn from qualifying purchases.