Lucerne & Zurich, Switzerland
Warning.
Long post alert.
I know, it's January and we traveled to Switzerland in September… I just had soooo many photos to go through and with the busyness of the holiday season, I figured I would just get around to it in January. So here I am, 5 months later, telling you about Switzerland…If anyone even cares, lol.
We spent total 5 days in Switzerland; 4 nights in Lucerne and 1 night in Zurich. We also spent a day in Bern and two days hiking through the Swiss alps. I combined Lucerne and Zurich and I'll do a separate post on Bern and the Swiss Alps, which you can find right on over hereee. 
Let's start with transportation. We flew in and out of Zurich and traveled to Lucerne and Bern, so to get between cities you have to take a train. We bought the Swiss Travel Pass and I HIGHLY recommend getting this as you get unlimited travel throughout the rail, bus, and boat systems and you get free admissions to some museums and extra discounts on different mountain railways and cable cars. It's a bit pricey but definitely useful, and you really get to enjoy the views when traveling between cities. We used the railway to get between cities, the buses when it was raining and the mountain railways and cable cars during our hikes.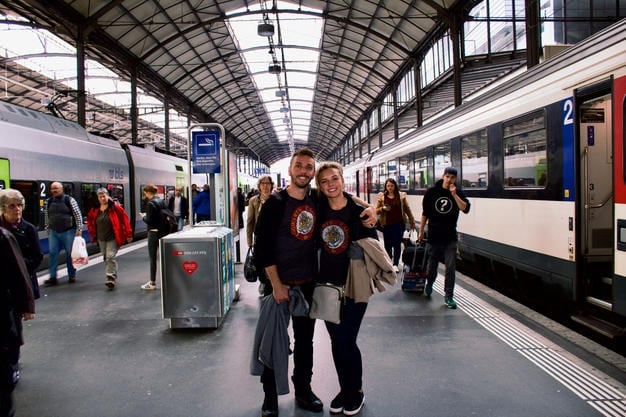 Felt like we were at Hogwarts Express, you know you love our Harry Potter t-shirts! 
Breakfast.
You HAVE to eat at Dr. Oetker Café Gugelhupf! I'm not kidding. It is was the CUUUTESSTTT cafe around, SOO good, and decently priced! We only discovered this cute cafe on our last morning there but let me tell you! Had I known about this place sooner, I would've eaten there everyday! I'm not over exaggerating. You're welcome. 
However, if you choose not to eat here everyday you could do what we did. There's a popular grocery store called Migros and we would go there every morning and get different baked goods/fruit/juice/etc. Their food was really good as well and very inexpensive compared to restaurants (we paid $37 for two people at McDonald's and we only got two sandwiches, one with a meal)! Yeah… can't be cheap in Switzerland even if you wanted to. If you do go to Migros, the hot-dog wrapped in a croissant was *drooling emoji*… I got that like everyday. 
I'll take one of each, please! And they have FRESHLY SQUEEZED orange juice everywhere!
I know I took like horrible pictures in Europe but seriously this place is awesome, I mean look at those swing seats! And their light fixtures! I could live in here. 
There are sooo many things I wanted to see/do in Switzerland but I'd need at least a month to get through all of them. We were there for five days, we spent one day in Bern, two days hiking, one day in Zurich so that leaves us with only one day in Lucerne. You would think that we could've just spent some time in the city after our hikes. Wrong. Everything closes at like 6-7 in Lucerne! This was pretty frustrating when you come off a long hike, you're starving, it's freezing and raining outside. Brilliant.
There were a few places open to eat but the cute 'touristy' area around Chapel Bridge was pretty much dead quiet so if you plan to visit here, come before six. I would also recommend coming during warmer weather because we came mid-September and it was FREEZING and raining the WHOLE ENTIRE TIME! And you want to see all the beautiful blossoms on Chapel Bridge in the summertime. 
 How cute is this pink building and street?! *heart eyes* 
This is one of the places in Lucerne that was open later and let me tell youuuuu. BEST chicken sandwich I've ever had! And I eat chicken sandwiches likkkkee just about everywhere I go, lol. It's called Wolf Burger & Steak Bar. It's a bit on the pricier side but sooo worth it. We also went to a more 'authentic Swiss food' restaurant called Neustadt, which was also open later but ALWAYS packed. Our airbnb hosts recommended it (which BTW were awesome and if you're looking for a place to stay, check out Jana and Omer, they sleep up to six people). It was pretty good but they had a very limited menu, which is quite difficult for a picky eater, like muahhhh. 
One thing I reaaallllyyy wanted to do was have dinner on Hotel Honegg's terrace at sunset (I mean if I could've stayed there too, you know I would've, lol). We even woke up at 6 everyday to make sure we had enough time to get through everything and we still didn't make it, plus it was like freezingggg.
Like I said, I would recommend coming in the summertime because it won't get dark so quick and you'll want to go out and about instead of cuddle up in a blanket. That's about all I have for Lucerne…I mean I could probably go on forever but I'll stop here and move onto Zurich!
Remember in Kissing Europe Goodbye when we talked about luggage… yeah. We didn't have enough room in the taxi so we had to lean the seat forward and sit hunched back… moral of the story, pack lighter.
 I miss the train stations 🙁
Zurich is a very rich town. Everything is expensive, everyone is fabulous, lots of shoppingggg. Bahnhofstrasse is basically the 5th Ave. or Champs Elysees of Zurich. BUT it seems there's not much else to do there. If you're interested in museums and things like that, there're a few. We went to the FIFA World Football Museum, because that's what the boys chose, lol. Old Town (Altstadt) is very beautiful, it is similar to Lucerne and then there's like a park and a zoo and stuff. Yeah, not much to do but enjoy another beautiful big city. I preferred the silent beauty of Lucerne and Bern over the busyness of Zurich. 
In Zurich we ate B. Good, Food With Roots, where they serve popular health-conscious fast foods. It was actually really good and it's a great location, on Langstrasse, where we stayed the night.  
Thanks for sticking around to the end! I hope you find this helpful if you're traveling to Switzerland and make sure to check out my other posts here on Bern and the Swiss Alps! If you go to the Gugelhupf cafe or Wolf let me know how much you loved it! As always I'd love some feedback from you guys…if there's anyone there…reading, lol.
Love, B