A Weekend in the City of Love
Breakfast in Paris was probably my favorite part of the weekend. I love breakfast in general but when it's in Paris and the dining room to our hotel looks like this, and the croissants are so soft and buttery (they were slightly burnt here but still so yummy) it just makes breakfast twice as good! We stayed at the Holiday Inn Paris – Montparnasse Pasteur because it was within walking distance to everything and a good price. We had to double beds because we shared a room with another couple since it was just two days. The room was absolutely tiny and the shower basically leaked out all the water into our room BUT their complimentary breakfast was on point! I would personally love to stay at either Castille Paris or Hotel du Louvre next time we go. Castille Paris is a little pricier but still affordable, looks more Parisian, and it's two streets over from Champs – Elysees. Hotel du Louvre is just fabulous, it's a little more than Castille Paris but it looks worth it lol (my husband may disagree). Anyway, eat as many croissants as you can eat in Paris because nowhere else will you find them that good! 
We used the metrostation to get around the city and my husband almost got arrested. We bought like ten tickets for two days or something and you just insert them at the gate and then your supposed to hold on to them until you leave the metrostation. Well on our last night we were going to see the Eiffel Tower sparkle (it sparkles for five minutes every hour) and when were going to exit the metrostation there was a security guard checking everyones ticket. We didn't know you were supposed to hold on to the ticket but we did everytime just in case and somehow he lost his this time so she was telling us we had to pay a fee. My husband literally went through all his pockets and found a bunch from both days except that one and he was explaining to her that he must've misplaced it but she wouldn't have it. She wouldn't even answer our questions until we paid and was yelling at us that they're going to arrest him if he doesn't pay the fee right now. So keep your metro tickets guys! 
We pretty much explored the city twice this day because I wanted to see everything in daylight and nighttime. Started off at the Eiffel Tower, of course, and did a mini little photoshoot. I would've liked to have dinner at here but it was fully booked when we tried to make reservations. We also didn't go to the top because I really ain't about waiting in long lines and stuff lol. The Eiffel Tower is what makes the city of Paris so going to the top you won't be able to see it because you're in it. I would've rather gone to the top of the Notre Dame or the Arc de Triomphe but we really only had one day and I didn't want to waste hours standing in lines.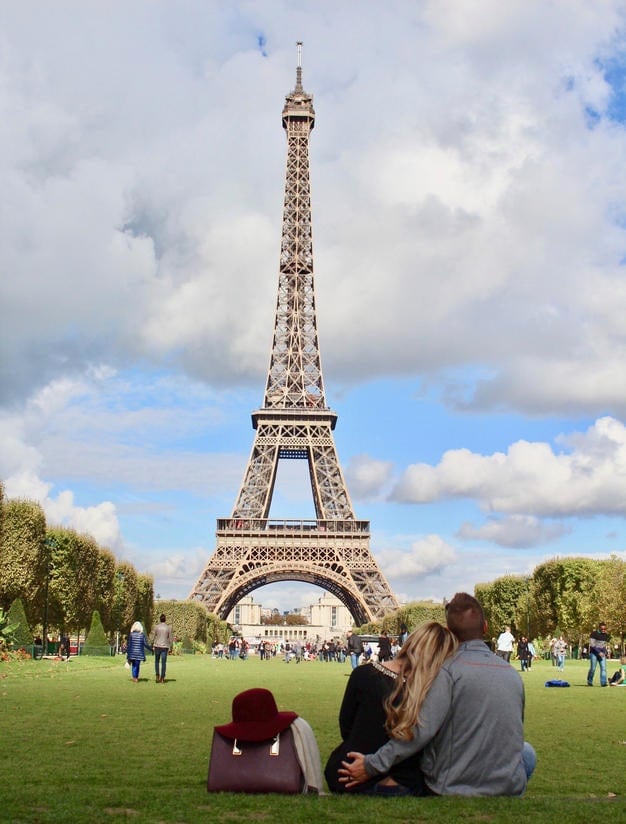 Let's take a second to appreciate these macaroons. I'm not a huge macaroon lover, and I'm not a huge croissant lover, BUT the macaroons and croissants in Paris are UNREAL! These are so soft and so moist and just melt in your mouth, both macaroons and croissants! All the way to the left is salted caramel, my husband picked and it taste like Werther's candy! The pink one is raspberry, which is my favorite fruit flavor in sweets, it was really good. The blue one was the only one we didn't like which was white chocolate mint or something like that, I usually love mint chocolate but really I just wanted to eat a blue one and it wasn't that good. The green one is pistachio of course, which is like known to be the most loved macaroon! Next is vanilla and then chocolate, which are usually my favorite macaroon flavors. I loved them all except the mint one and I would've totally tried all of them there! You also have to try the crepes and chocolate croissants! I got them from multiple places and they were good everywhere! 
Avenue des Champs-Élysées, the 5th avenue of Paris. Unfortunately it started pouring just after we got here so we lingered around it one the malls until it stopped. I'm not big on designer clothes, I can't justify paying that kind of money so I honestly didn't do much shopping in Paris. I do love to shop but the stores I shop at I have back home too so it didn't matter much to me. Also whatever I bought I would've had to carry around the rest of the day soooo I bought a lot of dessert instead lol which I'm still carrying around even at home if you know what I mean.
The entrance to Abercrombie & Fitch is obnoxious…beautiful but I expected to go into a museum, a fancy restaurant or even like a Chanel or something but Abercrombie & Fitch?! Check it out if you go, the inside is pretty obnoxious too and if you get lucky you'll see a bunch of half-naked male models out on the street in front of the entrance lol. 
I cut out a major photobomber out of the photo above that's why it's lopsided -__-
On our way to see the Arc De Triomphe! We actually got stuck in the middle of the street here that's why we took the photo. We were walking across and it doesn't tell you how many seconds you have left like in America, it just turns red. 
 Parisian architecture is love. period. 
I'm a little disappointed I didn't even take a picture of the Arc by itself. I'm working on a little project which I'll share with you all soon, and I would've liked to use a picture of the Arc without us in it because we're both such awkward models!
Pont des Arts, also known as the Lovelock Bridge, was one of my favorite places in Paris! In 2015 they actually removed all the locks from the bridge so if you go now, there's only one little spot where people have been putting them. I'm sure the bridge will fill up again over the years and look nice again but it was literally just a couple feet of locks which limited my picture taking lol I also forgot to buy us a cute lock before we went so I bought one of those little gold ones from a guy selling them on the street. 
You can see in the photo below how even that spot with a lot of locks has tons of gaps everywhere. If you look it up, the photos of when the bridge was full are just beautiful. Narcis and I aren't very romantic lol but I would've loved to do a photoshoot with the way the bridge used to look! Check out some these of photos from pinterest: 1, 2, 3.
Pont Alexandre III, the most beautiful bridge I've ever seen. This bridge, along with the mountains of switzerland, were so frustrating to take photos of because I could not get a picture that did it justice! It's SO much more beautiful in person (or when a real photographer takes pictures lol). 
We stopped and sat on these steps for a quick minute and realized it made for a pretty good picture. Paris is a very photogenic city, we spent a day and a half here and I have more pictures from Paris than both Switzerland and Barcelona, where we stayed five days and four days. I would love to come to Paris again sometime, maybe in a different season to switch things up!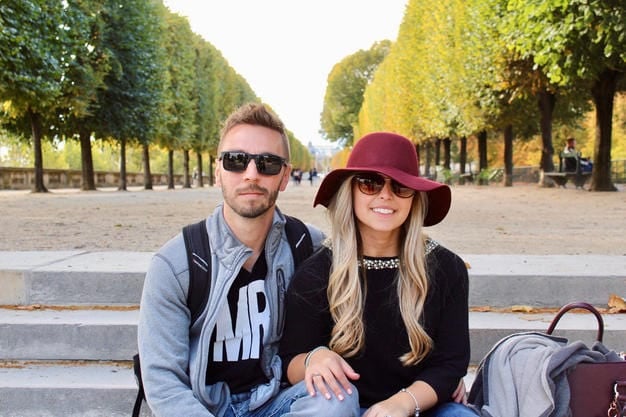 We went through part of the city again at night to see everything lit up and it really is magical. It wasn't quite dark out when we went by the Louvre so I'm sure it's even prettier later but the Eiffel Tower really is beautiful. I was sooo sad because right before we went to the Eiffel Tower was when my husband decided to argue with the security guard about the metro tickets and so right when we got to the Eiffel Tower, as soon as I pulled out my phone to take a picture, it stopped sparkling! It only sparkles for the first five minutes of every hour and it was all his fault I missed it and I was SO upset. I was not about to wait another hour for that lol. 
Paris is a very beautiful city, I was told not to expect much and that it's really dirty but honestly if you've been to New York City then you won't think Paris is dirty lol. Like I said, it's a very photogenic city so I would love to do a photoshoot there someday and to truly appreciate the city I would stay a couple extra days and do more relaxing things like have a picnic in front of the Eiffel Tower and go to literally all the cafes in town! If you've been to Paris let me know what was your favorite part about the city! As always thanks for sticking around on my extra long post, if you have any questions or suggestions, comment down below! 
Love, B